We have a face you can trust. (Actually, it's
more like a name.)


We believe in prints that blow your mind.


We think sharing should be second nature.


We respect the penny pincher in you.

We'll guard your collection of priceless memories.


We're super speedy.


We know how to have fun.


We don't require you to be a rocket scientist.

We don't care if you aren't wearing a shirt or shoes. We don't even care if you don't have a digital camera!

We're the kind of folks you can bring home to
Mom!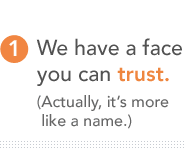 Company is a Kodak company. Which means your photos are in the hands of a trusted friend, one who has over 100 years of experience and expertise in making your photos look amazing and last for a very long time.
We print your photos on high-quality Kodak paper with KODAK Perfect Touch processing in our advanced Kodak labs. So when you place an order at Company, rest assured that your precious memories are very well taken care of.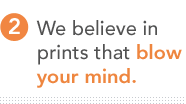 We know that a print is not just a print. It's a moment stolen from time. It's a first step, a first car, a first home, a first love. It's your life. And we take that responsibility seriously.
We use digital silver halide printing to produce archival-quality photographic prints. We use high-quality Kodak paper, KODAK Perfect Touch processing and state-of-the art printers. We want your prints to look even better than real life.
That's why Good Housekeeping says our prints win out over other online photo processing sites for "superior quality and protective coating."* And other experts agree, from TIME Magazine to the Wall Street Journal.
Find out more about our prints.
*Quotes taken from "Good Housekeeping Institute Tests: Digital Camera Printing" June 2004.

Sharing memories should be easy. You shouldn't have to worry about bulky email attachments that crash your grandma's computer or take 20 minutes for your friend to download.
With Company, you can share as many pictures as you like just by clicking a button and saying, "Hey, look at these cool photos!" Plus, it's secure (forget those virus worries) and it's fast.
All your friends have to do is click the link in the email we send them and voila! They're checking out the tan you got on vacation. And you can even check your guestbook to see who's clicked through your album.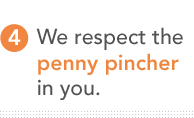 True, you could do it yourself. It's tempting to try to save a few bucks that way. But if you want to print enlargements or more than just one or two 4 x 6" prints, Company is cheaper than printing at home.
Plus, we do all the work for you. We'll print your photos with KODAK Perfect Touch processing and mail them to you for less money than you'd spend on all that paper and toner. And we give you KODAK Perfect Touch processing free of charge!
There's always a good deal to be found at Company. (We love passing out coupons!)
Get Company deals and discounts.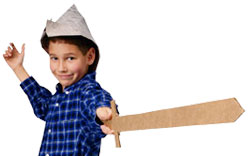 When you upload your photos to Company, we save them in secure, password-protected albums. No one else can see your photos until you are ready to share them. And even then, you are the only one who can add those special editing touches to your photos.
Plus, as long as you purchase just one print a year, we'll let you store as many photos as you want with us, free of charge!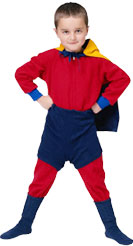 We know what it's like to wait for mail. And we don't want to make you wait for that package of spectacular pictures.
That's why we've spread our photo labs all across the country. So no matter where you live, you'll get your Company orders as quickly as possible. And we mean it—93% of our customers receive their print orders in less than 2 days!*

Find out more about our prints.
*The 2-day delivery time is from date of shipment when sent via standard USPS mail. Applies to Photo Greeting Cards, 4 x 6", 5 x 7", 8 x 10" and wallet-size prints.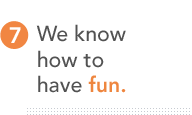 Photos are cool! They're gorgeous and hilarious and strange and wonderful all at once. And when it comes to doing stuff with your photos, you should have as many options as you do pictures!
That's why we give you so many ways to get creative with your photos. Change the color to black and white and several shades in between. Add captions and borders. Make cards for all seasons, or no reason at all. Tell stories in Photo Books and decorate your home with poster-size prints and custom Photo Calendars.
Do more with your pictures!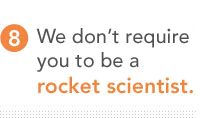 Sometimes the biggest barrier to getting gorgeous prints is just getting the silly things out of the camera! That's why we make it easy to get your photos onto our web site, no matter what kind of camera or computer you use.
Once your photos are here, we want you to be able to do amazing things with them. So we've done our best to make our editing tools and other options very user-friendly. Gorgeous photos are just a couple of clicks away.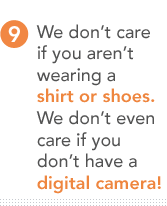 Anytime, anywhere, any way. You can get online and view your photos at 3 in the morning from Mililani to Poughkeepsie and all points in between. After all, they are your photos. You should be able to see them anytime you want.
And it doesn't matter what kind of camera you have—digital, camera phone, film—we take all kinds.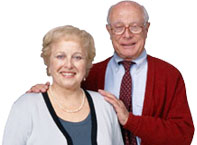 We're nice people, really. And what's more—we actually listen to what you have to say. Our customer service people are real Company employees, and they know how to help you out when you're having trouble.
We depend on our members to tell us how we're doing. Tell us what you'd like to see. We think you have some really great ideas.